April 12, 2021
Black Pear expands to boost care plans and electronic records for the NHS
Black Pear has snapped up a top new recruit to take our care plans, electronic health records and QuickFHIR to the next level.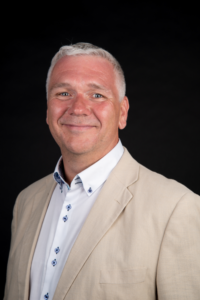 Chris O'Connell has over 20 years' experience in the NHS and was most recently driving interoperability at Philips before coming on board as our Chief Business Development Officer. But while he has notched up an impressive CV in healthtec – including implementing one of the UK's first text notification services – Chris has not chosen an orthodox trajectory.
Before taking a start-up to become Britain's largest supplier of communication services to the NHS, Chris had a successful stint running a family bakery. He took a brief hiatus from healthcare to run The Pet Show for two years – before returning to the industry to get 40,000 staff from 50 NHS Trusts to run in the Race to Rio. He's even dipped his toes in the world of AI. And in between the day job Chris found time to start renovating his home – a converted 17th Century windmill.
But despite the maverick career, Chris is most excited to get started in his new role. He said:
What Black Pear offers is exactly what the NHS needs – a technical solution that allows the health service to be more efficient. When it comes to health and wellbeing it is all about moving towards prevention, and that's what we can do with this technology. However, it's got to be clinically led. I don't think you can have a solution installed in the NHS that is purely IT driven and expect it to be used. That's why what Black Pear does, works.
Chris learnt about our team in his previous role working with Somerset NHS Trust on interoperability as part of the Somerset Integrated Digital e-Record (SIDeR). It means he was first familiar with our Core Care Plans, but is now getting to grips with all our solutions to forge new partnerships and take us to the next level.
He said:
The more I found out about what Black Pear did, the more impressed I was. The technology is so superior. It is so interesting and so useful. QuickFHIR enables any business to help the NHS. You might have the best app in the world, but you then need the data to prove that algorithm works. Without the data you have got nothing. QuickFHIR is a really inexpensive way to test it. The care plans can access all this data and can really open up primary care. I can see us really expanding those and creating a lot more.
Chris' role will see him leading sales and developing partnerships and relationships with key clients. He said:
What I really like already about Black Pear is the people. I'm looking forward to getting to know everyone in the team better. It is also so agile, I really feel like we can move and develop very fast.