PEAR FEST '23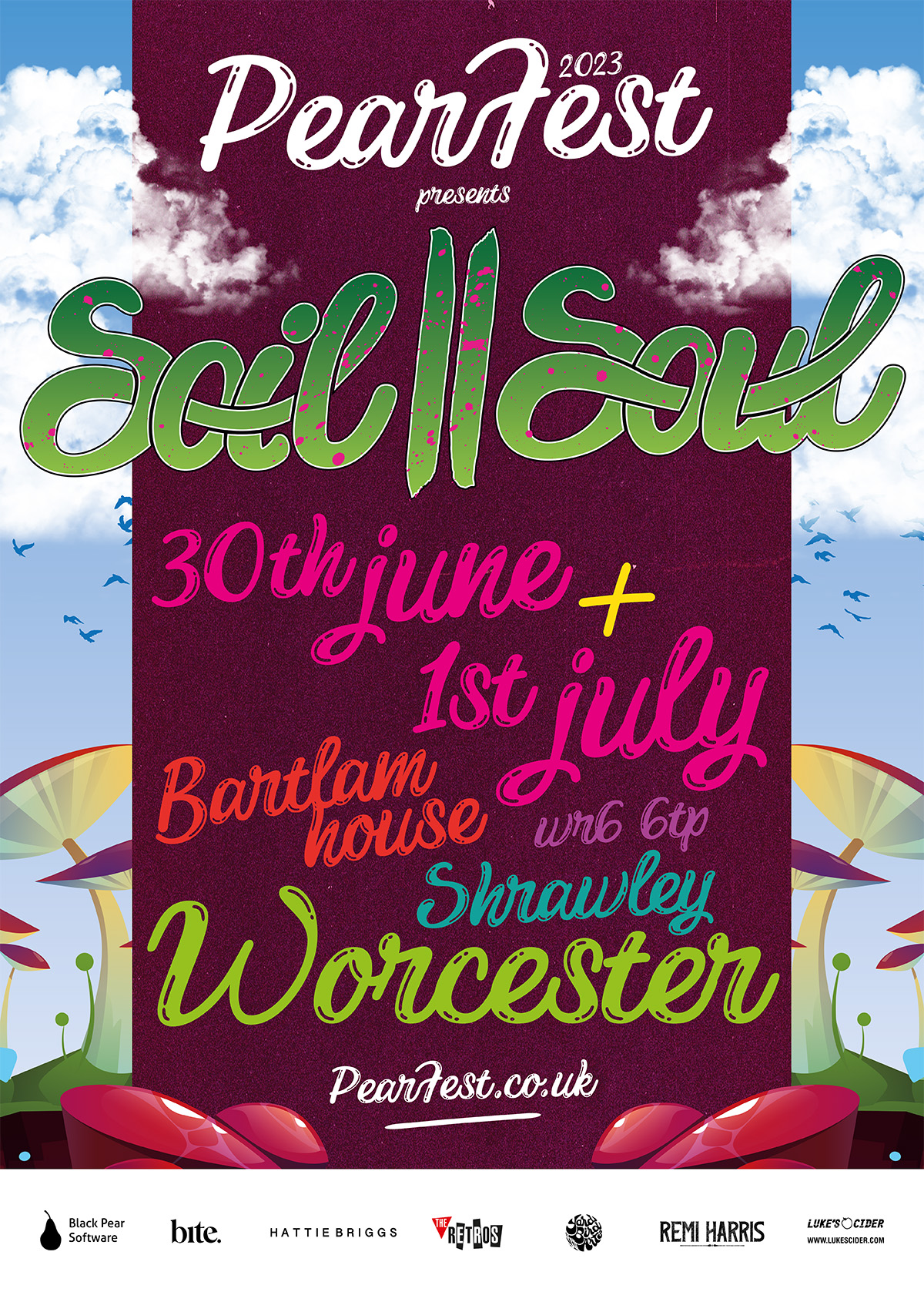 When
Friday JUNE 30th - Saturday JULY 1st 2023
Where
Bartlam House, Shrawley, Worcester, WR6 6TP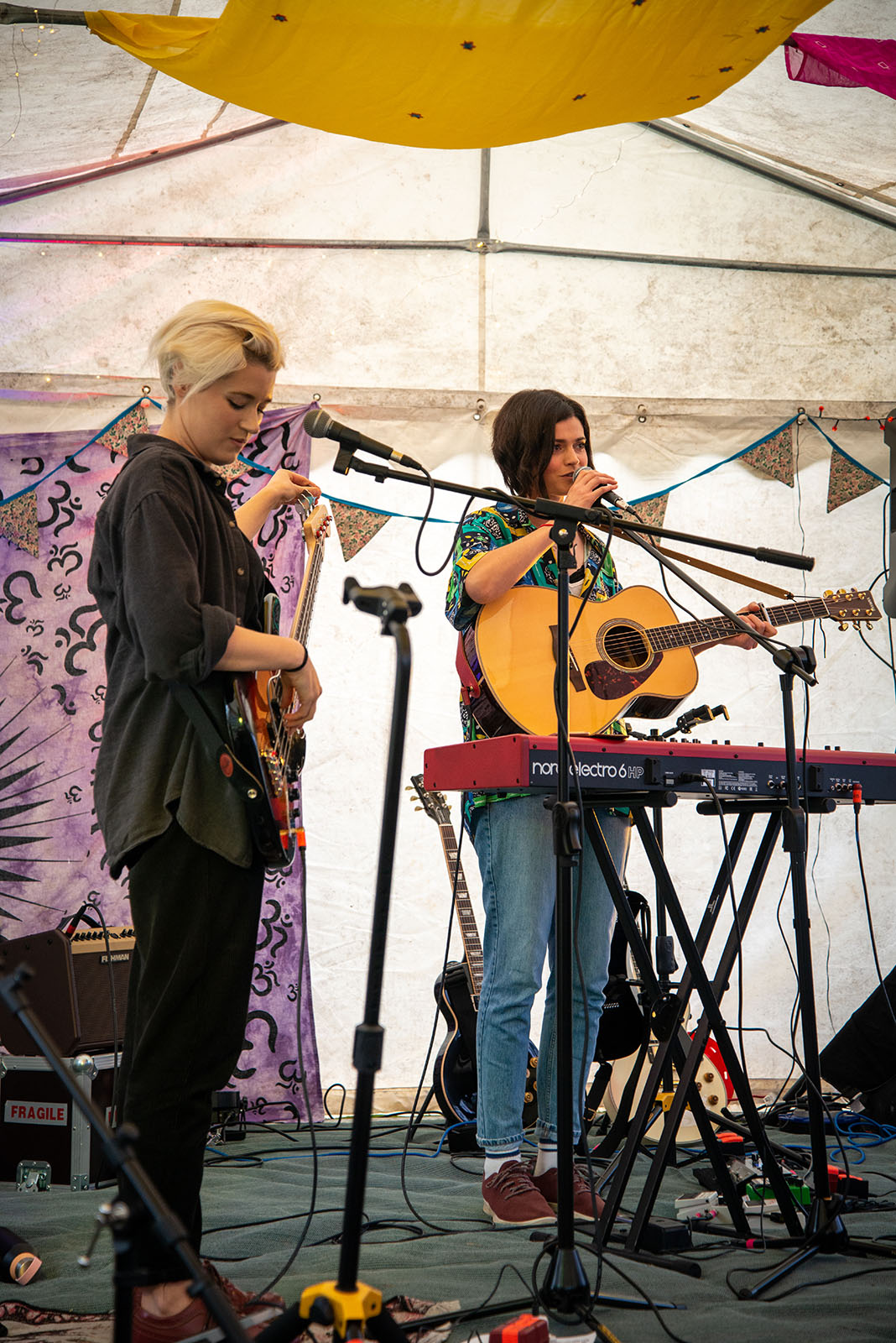 Put on your bell-bottoms and platform shoes, it's time to get down at Pear Fest '23. This summer, our Worcestershire HQ will be rockin' like it's the height of the disco era.
We're celebrating the decade of funky beats, cosmic exploration, and the birth of arena rock. Whether you're a disco star or a glam rocker, our killer bands and righteous food and drinks will have you boogying down all night long. But before you're ready to groove, we're hosting our first-ever ecological medicine symposium.
Following on from our successful Pre-Fest last year, we're turning Pear Fest into a two-day event. And as we're marking the '70s – the decade of peace, love, and conservation – we've gathered some of the planet's top ecological experts to help you revolutionise the way we care for Mother Earth.
We've got a line-up of eight guests from the world of ecological medicine and regenerative agriculture ready to dish the dirt on everything from ancient grains to the ketogenic diet. They know how to keep our planet and our bodies healthy, and they're sharing their secrets at our Shrawley HQ on June 30.
After hearing from our amazing speakers on day one the Saturday music festival will contain the familiar faces of Remi Harris, Hattie Briggs and the Retros once more. Remi will be riffing on the '70s while Hattie is composing a song especially for Pear Fest before the Retros bring the curtain down as only they can.
We've also got Giancarlo and Katie Caldesi up from London dishing up their legendary Italian street food, as well as a selection of craft drinks to keep you partying. The event is free of charge but we'd be very grateful if you could express your appreciation by donating to the Public Health Collaboration (PHC), a charity that is helping patients reverse their type 2 diabetes and other metabolic health disorders. You can donate here.
So don't be a buzzkill, join us and our partners for the coolest bash in town.

The event is free of charge but we'd be very grateful if you could express your appreciation by donating.
Day one – the talks
We at Black Pear are all about improving our health, and that starts with the soil that grows our food. So, on the first day of the festival, we're hosting a conference with some of the leading minds in sustainable agriculture and healthcare. We'll learn how our farms directly impact our health and how we can reduce the burden of chronic disease.
Join us from 10am in Shrawley for the first of our guest talks. The talks will be 30 minutes with time to question the many experts present. We'll be providing food and refreshments to keep you going through the day until 5pm following a talk from our own CEO David Jehring.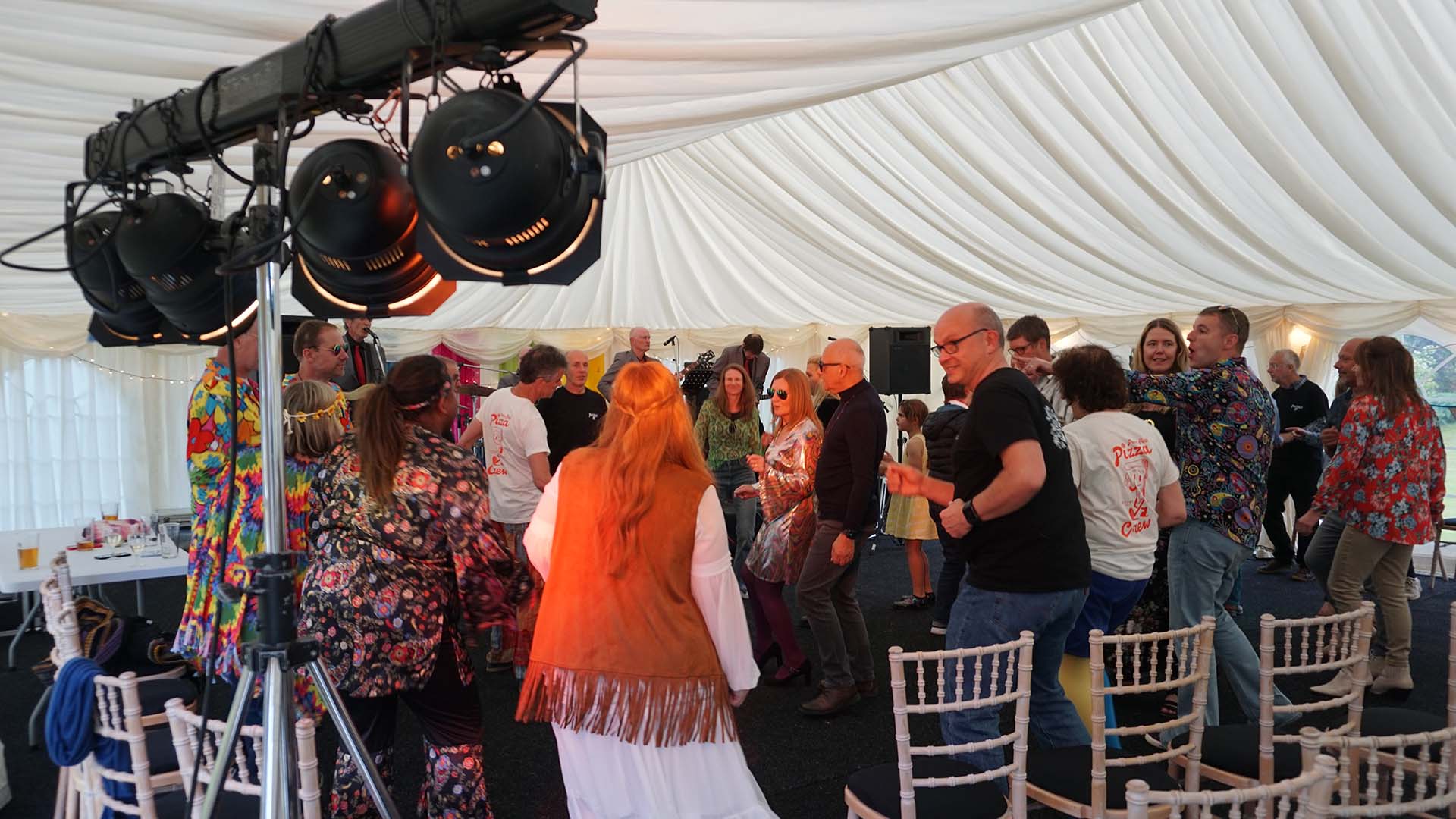 Pear Fest Conference Agenda
Date
Location
| | |
| --- | --- |
| 10:45am – 11:00am | Arrival and Registration |
| 11:00am – 11:10am | Welcome and Introduction by Dr. David Jehring |
| 11:10am – 11:40am | Talk by Dr. Jenny Goodman: Ecological Medicine and Human Health |
| 11:50am – 12:20pm | Talk by John Letts: Organic Farming and Heritage Grain Pioneer |
| 12:30pm – 1:00pm | Talk by Rebecca Hosking: Regenerative Farming and Wild food |
| | |
| --- | --- |
| 1:10pm – 2:10pm | Dig into Italian street food from the Caldesis served on the food terrace |
| 2:10pm – 2:40pm | Talk by Fiona Provan: Ethical Dairy Farming Practices |
| 2:50pm – 3:20pm | Talk by Hen Anderson: Agroecological Farming for a Sustainable Future |
| 3:30pm – 4:00pm | Tea Break |
| 4:00pm – 4:30pm | Talk by Russ Carrington: Regenerative Farm Management at Knepp Estate |
| 4:40pm – 5:10pm | Talk by Dr. David Unwin: Wildlife Conservation in General Practice |
| 5:20pm – 5:30pm | Closing Remarks by Dr. David Jehring |
| 5:30pm | End of Pear Fest Conference |
Please note that the timings may be subject to change.
SPEAKERS:
Rebecca Hosking
Regenerative Farming and Wild food
After a decade of working as a multi-awarding winning wildlife camerawoman, Rebecca Hosking decided to hang up her camera bags and don a pair of wellie boots to become one of Britain's first regenerative farmers. Together with a handful of others, Rebecca pioneered holistic farming practices in this country. Spearheading a movement that has grown exponentially in the past ten years. In that time Rebecca's own journey has taken some turns and today her focus is concentrated on the wild foods on her farm. Join Rebecca as she takes you on a whistle-stop tour to the benefits of foraged wild foods not just to our own health but to the health of ecology and wildlife around us.
John Letts
Organic farmer and heritage grain pioneer
John Letts is a farmer who has spent over 25 years developing more sustainable methods of growing cereals, and recreating the 'heritage' cereal crops of our ancestors. He believes we must draw "lessons from the past" in order to improve the resilience, flavour and nutritional quality of our grain. John will explain how he developed the "evolutionary" plant breeding methods he has used to create the heritage grain 'populations' that are now being grown on farms throughout the Oxford region for baking, brewing, distilling and thatching.
Russ Carrington
Regenerative farm manager, Knepp Estate
Russ Carrington was the driving force behind the Knepp Estate's regenerative agriculture project in West Sussex. A former civil engineer and regenerative farmer, Russ has devoted himself to helping food production and rural societies become fit for the future. Knepp pioneered the use of free-roaming grazing animals which transformed Knepp into a wildlife haven. Knepp was once an intensively farmed estate that has become a leading example of how low-cost rewilding methods can restore ecological health and create a thriving rural economy. Russ was brought in to set up a regenerative farm alongside the rewilding area at Knepp to produce beef, eggs and vegetables. He will tell how this can kick-start ecological restoration and benefit the environment and local communities everywhere. Russ was also a founder and later general manager of the Pasture Fed Livestock Association, working with farmers around the UK and Ireland to produce 100% grass-fed beef, lamb and milk.
Fiona Provan
Ethical dairy farmer
Fiona Provan path to setting the Gold Top Standard for dairy farming started when she witnessed the cruelty of factory farms as a child. She would accompany her father, a farm vet, on visits and the memories stayed with her. After leaving school at 15 and becoming a chef, she decided to build on her childhood passion and start her own micro-dairy. She will tell how she broke away from conventional farming and focussed on ethical dairy farming methods to support ecological health.
Hen Andrerson
Agroecological farmer
Inspired by the beauty and diversity of nature, Hen Anderson created a 1acre no-dig, bio-intensive vegetable garden, on her 17acre farm in a lush South Devon valley. She grows at hand scale, without heavy machinery or harmful chemicals. These growing methods enable Hen to build healthy and resilient soil, maximise space, and grow nutrient dense food within a richly diverse ecosystem. Over the years, Hen has honed her skills and knowledge, experimenting with different crops, composting techniques, and soil management strategies. She has faced many challenges along the way, but her love for the land and her dedication to sustainable horticulture has kept her going. Today, Hen is proud to share fresh, nutritious produce with her local community, and during her talk she will share her garden and growing techniques with you.
Dr Jenny Goodman
Ecological doctor
Dr Jenny Goodman is a renowned advocate for Nutritional and Environmental Medicine. She believes you can dramatically improve patients' health through changes to their diet, toxin exposure and lifestyle. For over 20 years she has been calling for better nutrition and simple detoxification to be the first ports of call when it comes to treating chronic conditions. An experienced speaker, Jenny will explain how (she thinks) ecological medicine can help patients lead healthier, happier lives.
Giancarlo and Katie Caldesi
Restauranteurs and low carb advocates
Giancarlo and Kate Caldesi had a string of successful Italian restaurants and cookery schools across London but their life was changed when Giancarlo was diagnosed with diabetes. Suddenly the energetic Italian chef was overweight and depressed with excruciating pain. But when a nutritionist friend suggested he do the unthinkable and drop the pizza, pasta and bread in favour of a low carb diet his condition was transformed. Now the couple have co-authored a low carb cookbook to combat diabetes and created gluten free pasta recipes as well as finding alternatives to pastry, bread and pizza. You can read about their healthy recipes at https://www.thegoodkitchentable.com/. They will be doing a demonstration of how to prepare some of these as well as helping to provide the food at Pear Fest so you can sample first-hand how healthy food can also be delicious
Dr David Jehring
CEO, Black Pear
Our CEO will be talking about the journey he is on to use agroecological methods on the land at our HQ in Worcestershire to improve the soil and biodiversity and how this ties in with improving the health of our citizens and cutting the burden of chronic disease. He will show how the technology that Black Pear pioneers can aid in social prescribing of lifestyle interventions to make this available to patients at scale alongside work he is doing as a trustee of the PHC.
Dr David Unwin
GP and wildlife conservationist
Dr David Unwin is a renowned general practitioner who has pioneered the low-carb diet to treat diabetes in the UK. His NHS clinic has helped an astonishing 127 people achieve drug-free T2 diabetes remission. David chairs the scientific advisory committee for the Public Health Collaboration (PHC) a charity dedicated to reversing diabetes. He is also a Royal College of General Practice clinical expert in diabetes.
He has enjoyed huge success reversing the illness through his method which helped see him named the ninth most influential GP in the country. He has been featured in numerous publications, including the BBC, New Scientist, Daily Mail, and The British Medical Journal. David will talk about the parallels between using lifestyle interventions in medicine instead of drugs and working with nature in the five wildlife reserves that he runs in the North West of England.
Can we make more use of biology instead of chemistry to solve the problems in both farming and medicine?
Pear Fest 2023
Day two – the party
| | |
| --- | --- |
| 11am | Low carb Italian food demo by the Caldesi's |
| 1pm | Pig Roast and grab a drink from the festival bar |
| 2pm | Remi Harris and the boys open the festival with a '70s set |
| 4pm | Hattie Briggs takes to the stage |
| 6pm | Get a wood-fired pizza f or low carb street food from the food terrace |
| 7:30pm | The Retros close the show with two hours of '70s music |
| 11pm | Last orders at the festival bar |
Important information
On arrival
If you're driving the car park will be signposted on the left as you come up the drive; taxis can drop you off at the top by the house.
Festival preferences
Please let us know by Wednesday if you want a vegan/vegetarian alternative to the pig roast or a low carb alternative to the pizza.
Weather
The event is being held under cover in a marquee. Those arriving by car will need suitable footwear to navigate a mown wet field – but there should be no Glastonbury style mud.
T-shirt collection
If you asked for a T-shirt, they will be available from the bar on arrival.
The Pear Fest Mission
Our legendary chief operating officer Sean O'Mahoney had a simple vision that Black Pear would one day put on the best music festival with the finest bands, drinks and food in the country. He wanted us to put on a show worthy of our amazing partners and customers to celebrate everything you do away from the confines of the office. Following his sad passing in 2020, we are on a mission from God to realise his vision.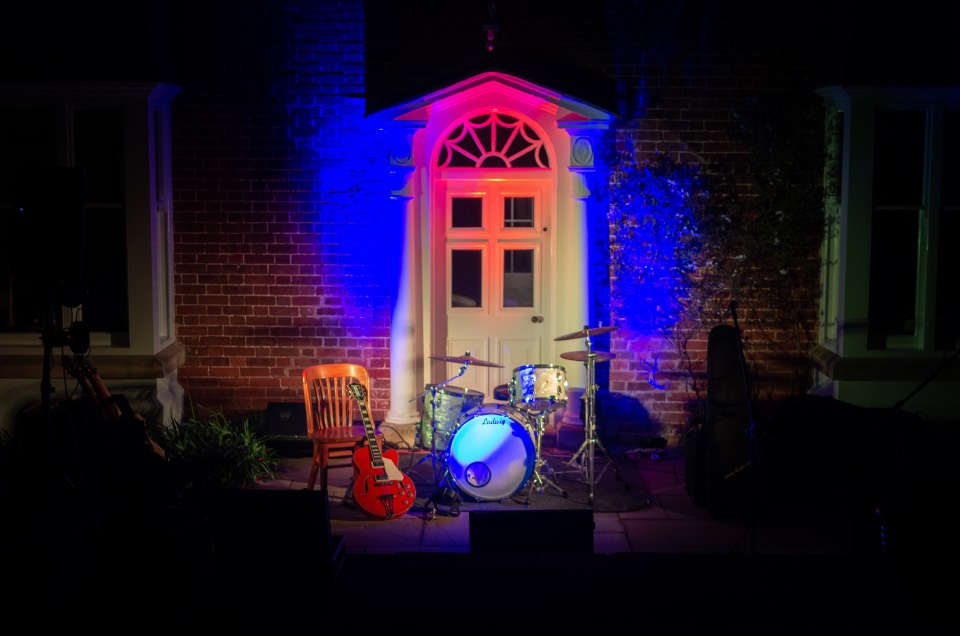 Highlights from last year