About us
Black Pear are passionate about helping NHS organisations and national programmes deliver better healthcare by leveraging the same modern open source technologies that power today's leading global companies.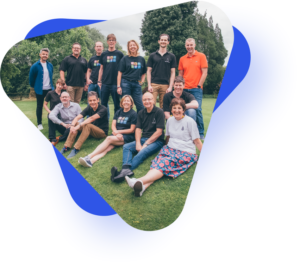 Our history
Established in 2009, Black Pear is a rapidly expanding company with a core team that has over 200 years of collective experience delivering innovative solutions to our health service. We pride ourselves on attracting trailblazers in both healthcare and healthtech.
It means everything we design is built for the actual needs of patients and clinicians.
Black Pear is a company built by those who know what our NHS needs and how to implement the solutions. That's why we were the first to create live read-write access to the leading GP clinical systems. It's why we were the first to adopt HL7 FHIR and the public cloud to exchange medical data. And it's why we're the best placed company to solve the challenges our health service faces in the digital age.
Our goal
Our goal is to empower commissioners and providers to more quickly realise the benefits of fast-changing clinical practice for patients, whilst better enabling the balance of demand and desired outcomes with the available funding for care.
We achieve this by helping the NHS exploit modern technology and standards to deliver the high value sustainable services needed by the NHS and patients today.
We do all of this using a proven suite of agile technology platforms and toolkits layered onto existing IM&T providing unique real time contextual two way 'conversations' and workflows across applications, systems and services.
These tools allow us to provide clinically led, patient-centric managed software solutions that seamlessly connect with existing clinical systems and services to improve patient care for a sustainable and resilient NHS.
Leadership team
Alongside a 20-year career as an NHS family doctor, Chief Executive Officer David Jehring designed the first Windows GP clinical system in the UK. He is among a handful of this country's GP computing pioneers, having taken start-up Apollo Medical into practices nationally before founding Black Pear. Our Chief Technology Officer Dunmail Hodkinson was the key architect behind Apollo's products. He became UK chairman of HL7 FHIR after spotting the potential of this standardised system for exchanging medical data to transform our healthcare system.
Chief Project Officer Cheryl Cowley has been at the forefront of clinical practice for 30 years. She was the first person in the UK to qualify as a nurse practitioner and went on to implement the successful Electronic Prescription Services (EPS) as part of the National Programme for IT. Our Chief Operating Officer Sean O'Mahoney was a pioneer in the same field and implemented the very first EPS in the UK. He took his own start-up national before joining Black Pear. Chief Financial Officer Liz Horler was a financial director at Deutsche Bank and group financial controller at both SEGRO plc and London Merchant Securities plc before joining our team.
We are supporting the NHS to deliver the Five Year Forward View for shared and integrated care
Want to hear how we can support your organisation as well?