Choose the right slot
Give patients the right consultation when they need it with all your primary services in one live appointment book. Doctors and 111 call handlers can choose an appropriate slot with anyone from an available GP to a community nurse. This has helped slash A&E attendances by nearly a quarter in some areas as only those who need to go to hospital are sent.
Patients who don't need emergency treatment can get a consultation in a range of settings from GPs and wound clinics to vaccination centres and Covid hot clinics.
Everything in one place
Users get a live view of every extended access service provided by GP Federations or Primary Care Networks, so patients can see the most relevant clinician at the most convenient time and place.
And there's no confusion on arrival as different booking systems are streamlined into a single appointment book.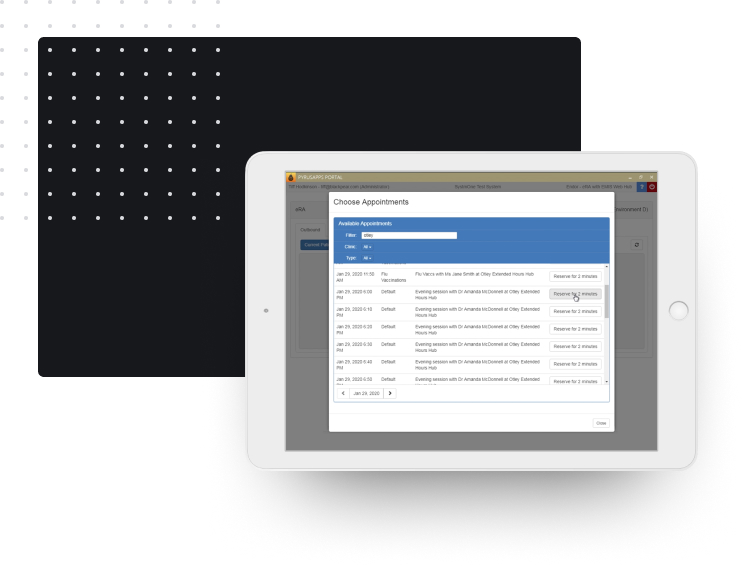 Enable new ways of working
Add as many new slot types and appointment sessions as you like. If a clinician needs to work remotely, or a patient can't make it in for treatment, simply create a Skype meeting or a teleconsultation.
Core Appointments has inbuilt versatility so you can run the service the way you want it.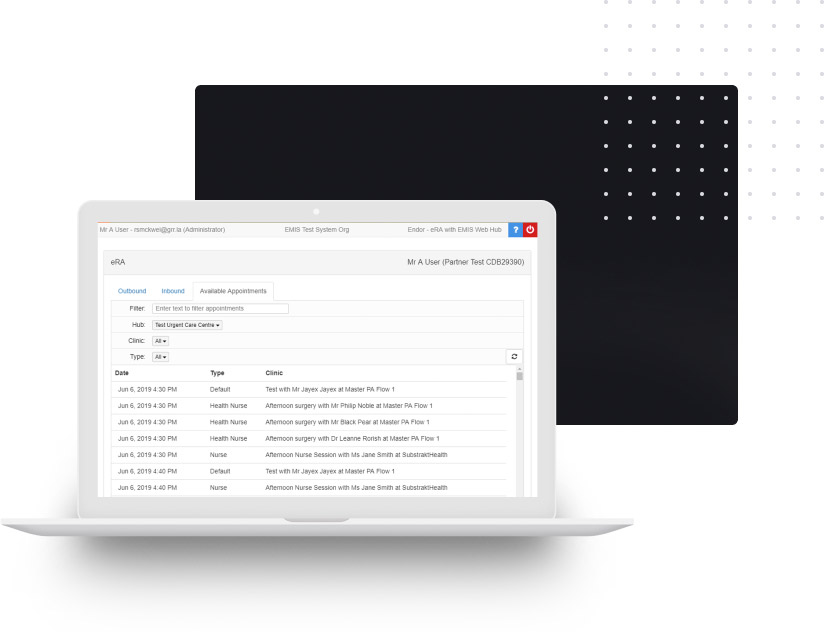 Stay in the loop
Once a GP has made an appointment they can track the patient's journey with a clear view of the booking status. This allows them to see if the patient attended their appointment or not.
The consultation notes are instantly returned to the GP after the appointment is completed.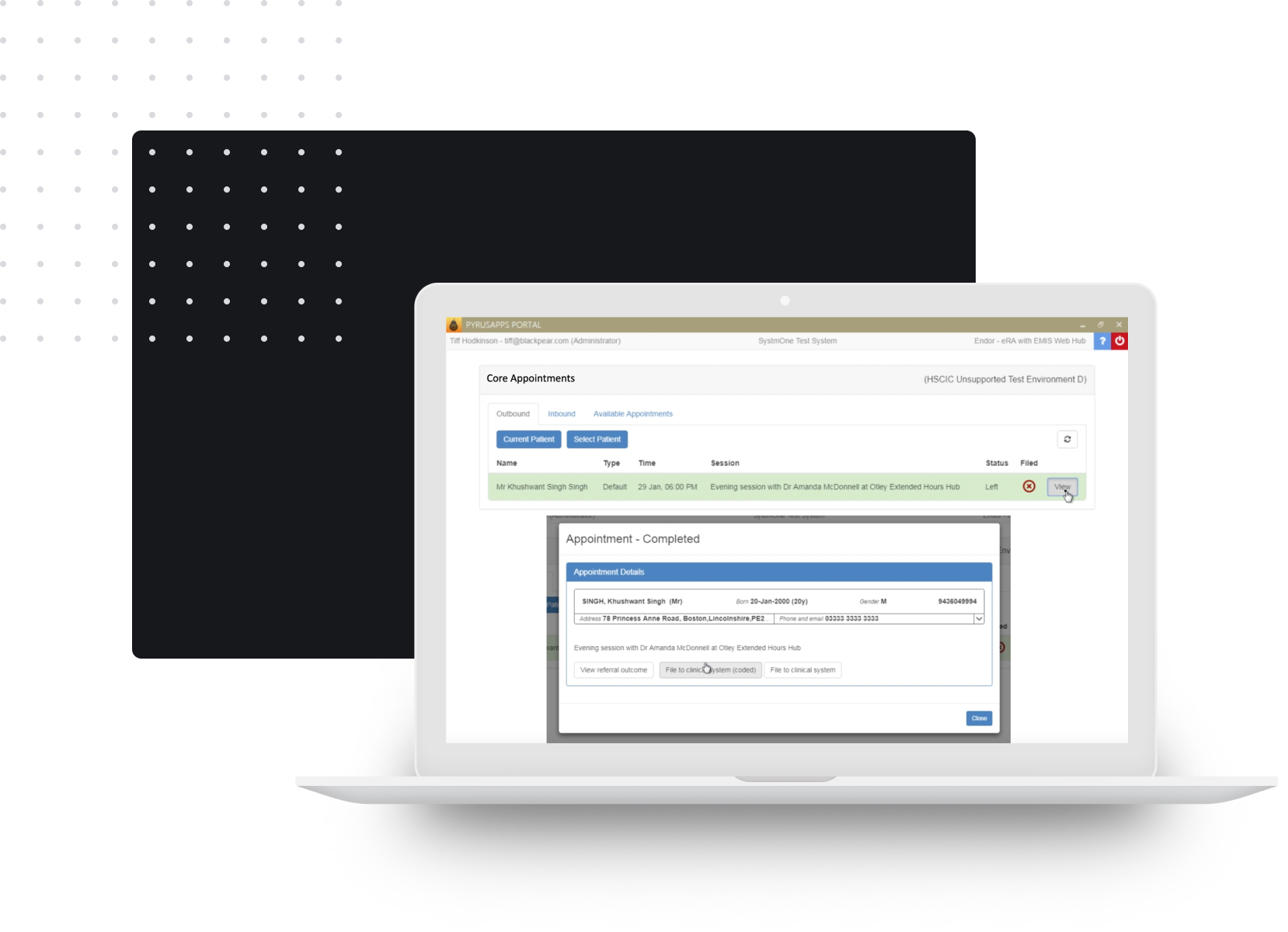 FAQs
Bookings can be made from EMIS Web, SystmOne, Vision, Adastra and Cleric. They are held on a central EMIS Web instance which can be used across multiple locations. It allows slot types to be set up for face-to-face, telephone and home visits. The consultation itself is recorded by clinicians in the same EMIS Web instance so a full audit history is maintained.
A clinical précis is sent from the GP practice which contains key information such as active and significant past problems, allergies and adverse reactions, active medication, as well as the latest values for BP, BMI, height, weight and smoking.
Outcomes can be filed back automatically to the GP system with an email notification stating that the information has been written back to the patient record. Alternatively practices can file back outcomes themselves as soon as the patient has left their appointment. All entries can be posted as SNOMED CT or as free text.
Bookings, cancellations and moving appointments operate in real-time. Updates to the appointment book, patient status and the return of outcomes are synchronised at frequent intervals; this provides better system performance for users, enabling them to find and reserve available slots in seconds.
Yes – for appointment booking into EMIS Web, contact EMIS to discuss the provisioning through their reseller agreement. For booking into SystmOne, contact Black Pear directly.
Want to get started?
We don't believe in making you reliant on one supplier. That's why once we get you up and running with one of our products, you can use any solution that harnesses HL7 FHIR®. So you are free to find the best solution possible.
Customer and product stories
Check out who we've been helping with our latest solutions.
May 11, 2020
Black Pear Enabling New Patient Services in Rapid Response to COVID 19
August 3, 2018
Core Appointments: a Patient's Perspective
May 9, 2018
Black Pear assists in reducing A&E attendance
May 11, 2020
Black Pear Enabling New Patient Services in Rapid Response to COVID 19
August 3, 2018
Core Appointments: a Patient's Perspective
May 9, 2018
Black Pear assists in reducing A&E attendance