Live in 60 seconds
Give clinicians the key information they need when they need it most. Our plans take less than 60 seconds to create and are shared instantly with every relevant NHS service.
All the data is live and if the patient changes their wishes or a clinician updates their status everyone is instantly notified.
Pick the right one for you
We have a range of live, interactive plans ready to go - or our team can tailor-make specific solutions to your exact needs.
Frailty and dementia
End of life
Community mental health service
Comprehensive assessment
Special patient notes
Integrated neighbourhood team
All on one powerful plan
Everyone is always aware of the patient's exact status as each service is working off the same live plan. We take real time data from the GP record or other systems and store it on the cloud in a single source of truth.
This is a live, interactive record that any authorised user can view, share and update no matter where they are.
Get what you need
A paramedic has very different priorities to a hospice consultant. We know that, so we give them each a personalised snapshot of the same plan. Our team can tailor different views for each type of role your organisation has.
Want to see more detail? Simply click a button to view the full care plan record underneath.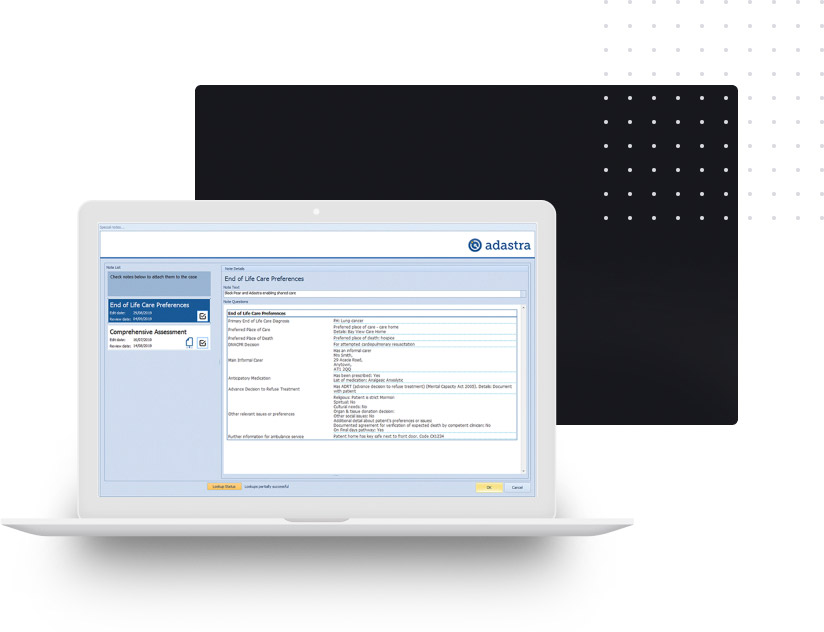 Easy as one, two, three
Normally you have to complete over 150 data fields to start a new plan. With Core, you just fill in three. Our technology pulls all the relevant patient data straight into the plan.
Simple guided workflows walk you through the three remaining fields in under 60 seconds – and it's shared with everyone the second you hit complete.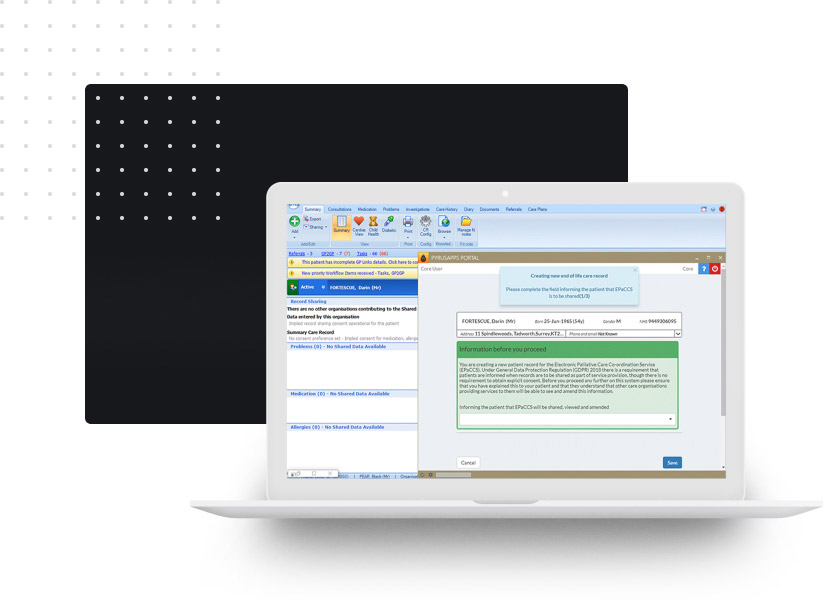 FAQs
Some of the data is automatically populated from the patient's GP record to save time and improve the accuracy of the information. Examples include patient demographics, GP practice details, current repeat medications and diagnoses or problems.
More data can be added when appropriate such as focus of care, prognosis, anticipatory medication details for end of life, main carer or care worker, dementia and frailty details. Data entry is easy and straightforward so that the care plan information is built up over time.
The record is not initiated until consent is gained and the patient has been informed their record will be shared. All data is treated, shared and stored following GDPR. A data field records the type of consent for sharing the record.
An administrator in each organisation is responsible for giving their clinical colleagues access to Core Care Plans. Access may be limited to create, edit or read-only, as appropriate. The Black Pear Licensing tool controls access.
The following clinicians typically will have access to Core Care plans:
GPs, Nurse Practitioners and members of the administrative team
Practice Nurses
Community Nurses
Community Palliative Care teams
Community Mental Health services
Hospice clinicians and End of Life administrators
Hospital clinicians
NHS111/Out of hours
Ambulance service
Yes, as soon as you are enabled and the software has been installed on your workstation in general practice or a link has been installed on your hospital system. Log onto your clinical system, find the patient you wish to record information about, click on it and choose the care plan app.
No, it is expected that the GPs or consultants will initiate the plan and complete the key mandatory fields, but other organisations will contribute to the plan over time. The GP practice and others will be notified of any updates to the plan.
Want to get started?
We don't believe in making you reliant on one supplier. That's why once we get you up and running with one of our products, you can use any solution that harnesses HL7 FHIR®. So you are free to find the best solution possible.
Customer and product stories
Check out who we've been helping with our latest solutions.
May 11, 2020
Black Pear Enabling New Patient Services in Rapid Response to COVID 19
July 13, 2020
EPaCCS: Supporting clinical decision making in Out of Hours Care for patients at the...
December 4, 2019
Somerset, SIDeR & Success: EPaCCs Uptake Update
May 11, 2020
Black Pear Enabling New Patient Services in Rapid Response to COVID 19
July 13, 2020
EPaCCS: Supporting clinical decision making in Out of Hours Care for patients at the...
December 4, 2019
Somerset, SIDeR & Success: EPaCCs Uptake Update