March 23, 2021
Core Care Record scoops prize for connecting the health service
Black Pear Core Care Record has won an award for unlocking the true potential of shared care in the NHS. We were crowned EMIS Partner of the Year in the Connecting Healthcare category for enhancing multidisciplinary work with the Somerset Integrated Digital e-Record (SIDeR).
Judges were impressed by how Core Care Record powered SIDeR to give every service a single, integrated view of each patient's live information. It harnesses HL7 FHIRⓇ and AWS to give any authorised user a snapshot of all the information they need.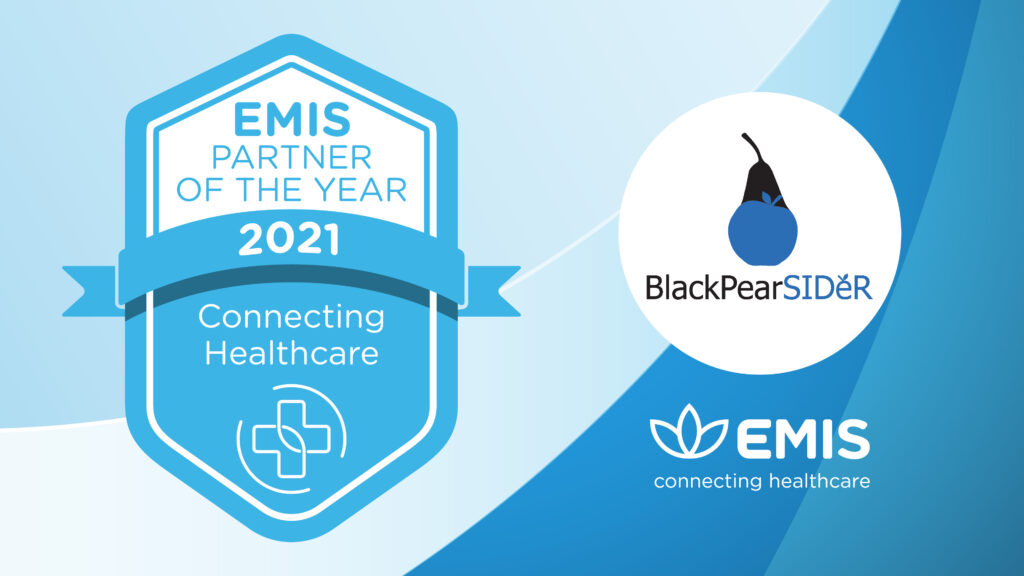 Black Pear CEO David Jehring said:
I'm delighted that we have won this award from such a valued partner. As a team we are incredibly proud of the SIDeR project and grateful to everyone in Somerset CCG who helped make it possible. This is one of our flagship ventures which brings together some of our
key tools
including AWS and FHIR with the powerful EMIS Web system to make treating patients as simple as possible. We believe this partnership can continue to transform healthcare across the NHS and we look forward to many more innovative projects like this in the future.
SIDeR pulls the patient's GP record live from EMIS web and grabs other relevant health and care information so everything is in one place. But we tailor the view to each service's role, so clinicians don't waste time scrolling what they don't need to see and patient confidentiality is robustly protected. It also fosters a multidisciplinary approach as clinicians can see the build up of every interaction right up to the moment of the current admission, callout or appointment. Users get a concise summary of recent encounters, problems, medications, allergies and alerts, but can dig deeper into the EMIS patient record if they need to. Core Care Record lets them access any appropriate information they need no matter which service recorded it.
SIDeR was recognised for enhancing connected care while encouraging safe system practice. By joining up existing EMIS systems using FHIR, rather than creating a unified dataset from scratch, it nurtures technical expertise at the ground level as local services are responsible for their own data. It also means data from EMIS Web is delivered live, on request, and is not retained anywhere, adding an extra layer of security.
The panel also marked it up for encouraging integration as SIDeR is linked to our Electronic Palliative Care Co-ordination System (EPaCCS). This means clinicians treating an End of Life (EoL) patient can view and update their latest wishes from the care plan live from within SIDeR.
When a user – such as district nurses or out-of-hours services – updates the patient's latest EoL wishes every other relevant clinician is instantly notified of the changes.
Already nearly 400 users across ten different organisations have used SIDeR to view records on over 2,250 patients. And we are set to connect the rest of Somerset in the coming months with Somerset Foundation Trust going live very soon and the County Council's adult social services coming on board earlier this month.