January 07, 2021
Black Pear care plans boost with new recruit
Black Pear has bolstered our Core support team on our live care plans with new senior operations engineer Michael "Mic" Barrow.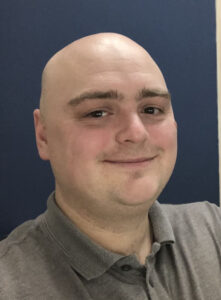 Mic has got to work helping out on Core Care Plans and Appointments bringing his 15 years of experience in healthcare software to the fore.
He handles queries on our Electronic Palliative Care Co-Ordination System (EPaCCS) and other health and care plans as well as our single, live appointment book for all primary services.
Mic kicked off on technical support in September alongside a few familiar faces from his time with Apollo Medical.
Mic said:
I already knew the majority of the team, which was great. Getting to grips with the software has been a steep learning curve but it is mind blowing.If the server goes down on automatically comes up seconds later – you don't even notice it's gone.With support calls there are usually some quite serious issues, but with Black Pear it is all stuff like password issues; nothing serious.But Black Pear is always striving to improve. If we pick up on something customers are saying the team will say, why not try and improve it?
Rather than painting over the cracks they get to the bottom of it and make lasting changes.
Mic cut his teeth in tech working as a network administrator at a secondary school with 1,200 users before moving to Apollo Medical for 14 years.
Mic said:
It's been great how much I can focus with Black Pear as I only have one role. I can just focus so much more, it's fantastic.
It's also great seeing everyone I'm working with. When I'm on conference calls and listening to the other team I'm in complete awe at their knowledge.
Everyone' a leader in their field.