July 09, 2021
Ace day out at Wimbledon ticks off another Sean Day
Wimbledon served up an ace Sean Day for new recruit Nicole Palmer who enjoyed strawberries and cream in the sun on centre court.
Nicole has wanted to visit SW19 for years and she jumped at the chance to tick it off her bucket list in memory of our chief operating officer Sean O'Mahoney. Any member of the Black Pear team can take an extra day's leave as a Sean Day to do something special we know he would have loved. Nicole couldn't believe her luck when she got access to the biggest court and got to see British heroes Andy Murray and Dan Evans, as well as former world number one Garbiñe Muguruza Blanco.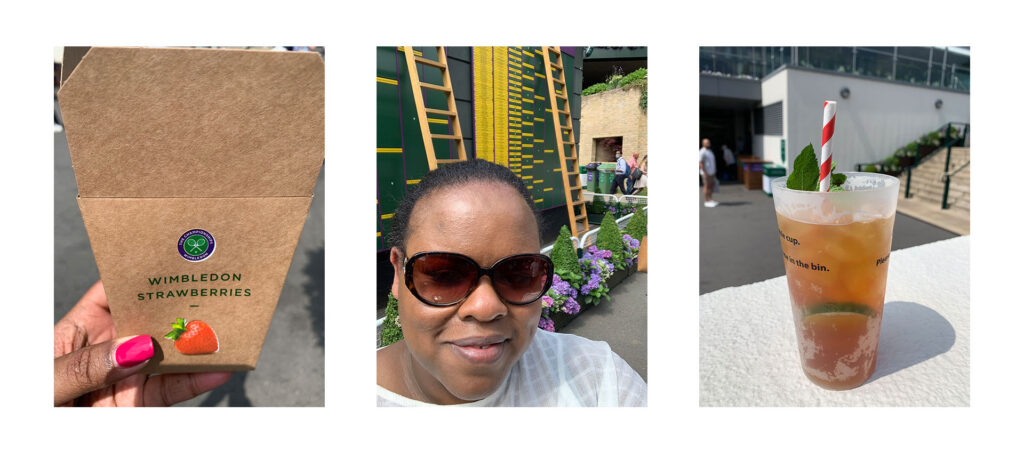 It was such an amazing day. I have always wanted to go to Wimbledon but for one reason or another I have never gotten around to it. When I heard about Sean Days I thought, ok I'm going to go for it. I never met Sean but it is such a lovely idea, especially seeing as he sounds like someone who really liked living for the moment. I feel it gives a really special way of making sure he's still a part of the company. It was a brilliant day for me – I couldn't believe it when I got tickets to centre court. Although my hands hurt from clapping afterwards, it's a lot of tennis.
Nicole lucked out with 24C heat but sadly had to witness both Evans, 31, and Murray, 34, bowing out last Friday. She did manage to pick up a bowl of strawberries and cream though and forked out for Pimms at the iconic venue.
Nicole said:

It is a shame both the British players lost, but it was still an incredible atmosphere. Because it is a test venue for Covid centre court was pretty packed and everyone was so friendly. I had a lot of fun and was pleasantly surprised that the strawberries weren't a rip off – just £2.50. The Pimms was a bit harder to stomach though at £8.50 for a pint.