Core End of Life
Core gives end of life patients what they want when they need it most. The plans take seconds to create and are shared instantly with every relevant NHS service. If the patient changes their wishes everyone is updated - live. You're informed like never before so your patients' wishes are always respected.
The problem
Those with 12 months to live are offered an end of life care plan to ensure they live as well as they can and die with dignity. It contains all their wishes and final demands. But often clinicians do not have this to hand at critical times and those on the plan are likely to be in more critical situations than any other patient.
Problem solved
Patients need a system that ensures their latest wishes are available at every point in the health and care system. That's why we designed Core End of Life. It ensures patients' preferences are known no matter where or when that critical time is.
Live in under sixty seconds
It takes just 45 seconds to create a Core End of Life plan. Usually a GP has to complete over 150 data fields to start a new plan. With Core, you just fill in three. Our technology does the rest for you.
Core pulls all the relevant data right from the patient's GP record and puts it straight onto the plan. Guided workflows and simple drop-down boxes walk you through the three remaining fields in under a minute and once you hit complete it's instantly shared across every NHS service.
On the cloud
Core End of Life ensures the right people are always informed with a radical new way of exchanging medical data. It works by creating the care plan as a single source of truth.
This is a digital file of all the patient's wishes and appropriate healthcare information pulled live from their GP record. It sits on the cloud so it can be shared with every relevant person.
In the loop
With Core End of Life the clever stuff is in how you view it. Every user gets a unique view tailored to them. You get a snapshot of live medical information strictly relevant to your role. You can update and maintain the plan instantly from anywhere at anytime.
Other users are notified of the change right away. It means Core End of Life is always up to date so no one is out of the loop.
Straight to the right people
If you need to see a Core End of Life patient's wishes, you can. You don't have to be a clinician to view it. That's because Core filters information to robustly protect patient confidentiality.
Core pulls out strictly relevant data and beams it live to your smartphone, tablet or computer. So if you're a 111 or 999 call handler you get the information you need to direct the patient to the right care. This enables the quickest and most informed decisions possible.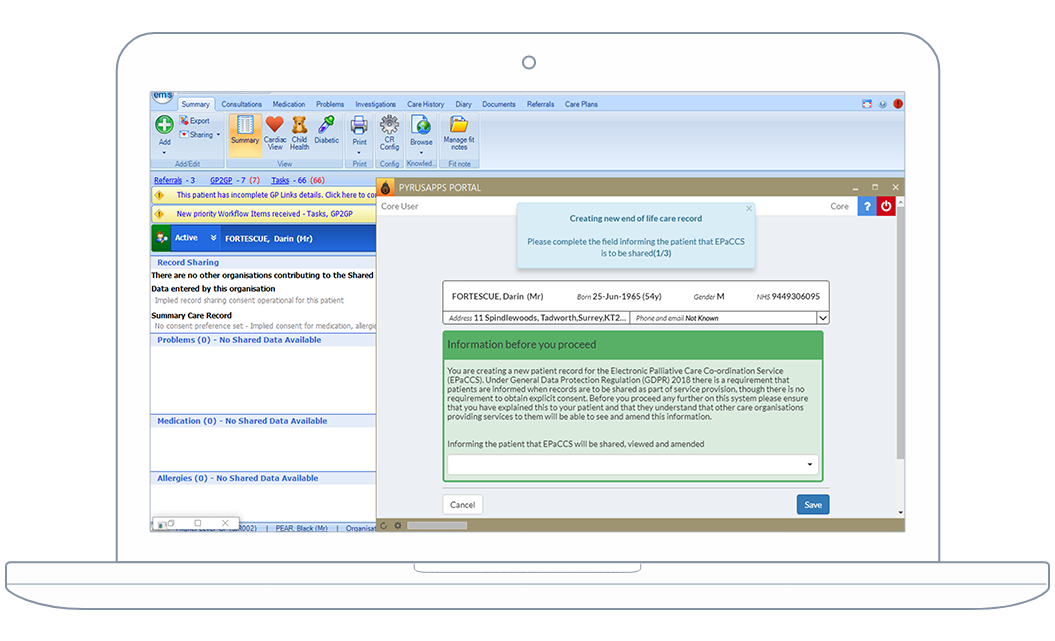 Time is key
For emergency services every second is precious. Core End of Life gives them exactly what they need. It tells paramedics on a callout if they are visiting an end of life patient. They get a snapshot of vital information so they don't waste time searching. If the patient has collapsed in a flat they don't have to call the fire service to break in. Core End of Life simply gives them the key code.
Once inside they can focus on treatment – they already know all of the patient's relevant medical history and wishes. They don't need to worry about making an "if in doubt" decision either. Core End of Life is live. If the patient changed their wish from do not resuscitate to resuscitate an hour before it doesn't matter – Core will have picked that up.
Care where you want it
Without Core an out-of-hours service operator cannot see if someone calling them is an end of life patient. They won't know if the patient wants to be treated at home. It means they will put them in an ambulance straight to hospital regardless of their desires, creating unnecessary emergency admissions.
Core tells the handler the patient is on an end of life plan and beams them a live summary of their wishes. If the patient wants to be treated at home, they will be treated at home.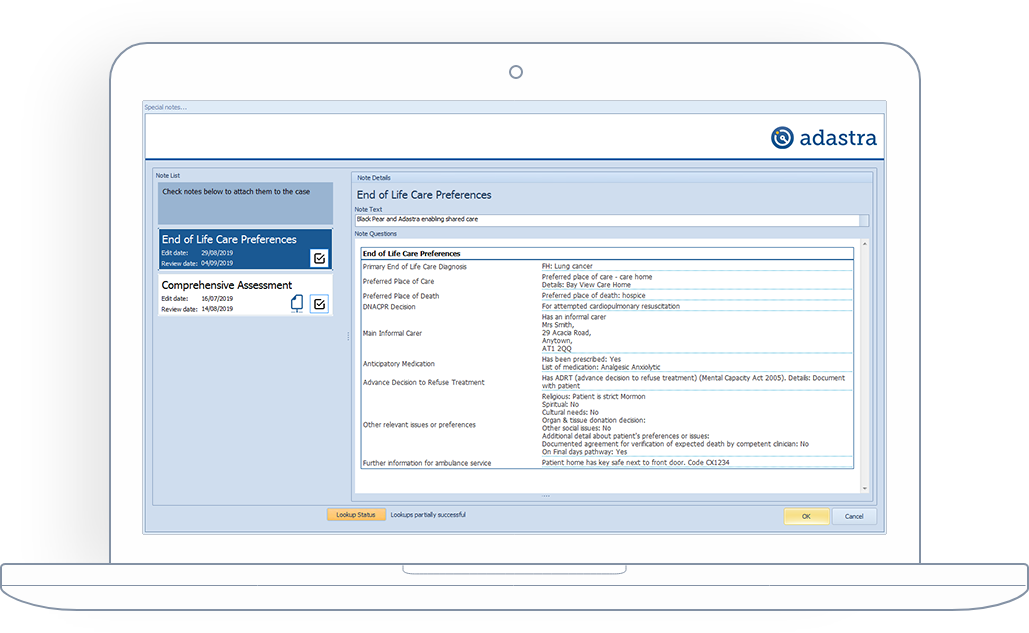 Never in doubt
Core End of Life empowers you to treat your patients with total confidence. It brings every NHS service together to improve the coordination and quality of care. It means they are right behind you at that critical moment.
It doesn't matter who you are or when you need it, Core End of Life has you covered.