Information anywhere
Core is the smart stuff behind all our products. It allows you to view, change and share records like no other system. We worked with clinicians to ensure their actual needs are at its heart. This means you get the right information, in the right place, at the right time.
Never outdated
Core works seamlessly between your smartphone, tablet and computer. It pulls relevant data live from the GP record and other systems and presents each user with a view tailored to their specific needs. Simple workflows allow you to quickly view and update the information. Unlike other systems, Core technology writes these changes back instantly. It means no record is ever out of date and immediate notifications prevent uninformed decisions.
The mission
We designed Core to empower clinicians at the most critical times while protecting patient confidentiality like never before. To achieve this we needed a system powerful enough to pull a patient's entire medical history as well as all their personal needs and wishes – and then distil it into the simplest form possible.
The technical stuff
To achieve this we helped pioneer the use of the public cloud for healthcare in the UK and were among the first on the planet to adopt HL7 FHIR – a standardised system for exchanging health and care information. These twin technologies let Core pluck out appropriate information no matter which service holds it and deliver it live to your fingertips. You don't waste time scrolling through stuff you don't need to know and your patient won't want you to know.

Only the truth
In the same way social media revolutionised how you communicate, Core transforms how you exchange healthcare data. It works by creating a single source of truth – a record of all the patient's wishes and appropriate healthcare information live from their GP record and other sources. This is shared across every NHS service so any relevant clinician can view it and interact with it.
Core in practice
If you are a paramedic on a callout, Core gives you what you need from every service. A summary on your tablet shows you relevant, live medication information, treatment history and wishes. If two hours before you were called the patient switched their desires from do not resuscitate to resuscitate, or vice versa, Core will tell you that. Once you have treated them, you add the outcomes and hit update. This is instantly beamed back to all subscribers on the patient's shared care plan, from the GP to the carer. Core Notifications tells every user the plan has been updated to ensure they are informed. If necessary, it will flag that a new care plan is available as well as sending advisories and calls to action.
In safe hands
This enhanced integration is built from the ground up around the needs of the patient and clinician. Thousands die each year because the right information was not in the right hands at that critical moment. That's why we made Core. It finds all the information you wish you had and gives it to you right when you need it.
Keep it simple
Our simple interfaces are easy to use from day one while the intelligent things are going on behind the scenes. Core translates the patient information you enter into codes computers understand. It does this using clear drop down boxes and guided workflows so you spend less time clicking and more time treating. Robust safeguards stop incomplete updates being added and ensure records are never doubled up. Everything is live so you see the most up-to-date record possible of your patient's care, personal needs and history.
Get what you need
Health and care services outside the GP practice can use Core to create and share plans. If you're at a hospice or out in the community it doesn't matter. You simply find your patient's record on the Personal Demographic Service - a database of everyone's GP record - and Core does the rest. It lets you extract the information you need to make a care plan and then share it with the relevant clinicians.
Connecting to Core
If your health and care system is already on Care Connect you can adopt Core immediately. But don't worry if not – we have a selection of tools in the box that can get you up and running. It doesn't matter how up-to-date your system is – if you need Core, you can get it.
One product, endless potential
Core is already being used to enhance patient care, slash unnecessary ambulance callouts and integrate an entire health and care system. But it is not limited to off-the-shelf products. Core will empower you with systems that are immensely more capable, versatile and reliable than any before. It offers the potential to free up clinicians to deliver the most personalised care imaginable. The possibilities are endless.
Core End of Life
This is our revolutionary care plan for end of life patients. It gives them what they want when they need it most.
The plans take seconds to create. They are shared instantly with every relevant NHS service. If the patient changes their wishes everyone is updated – live.
Core End of Life means you're informed like never before so your patients' wishes are always respected.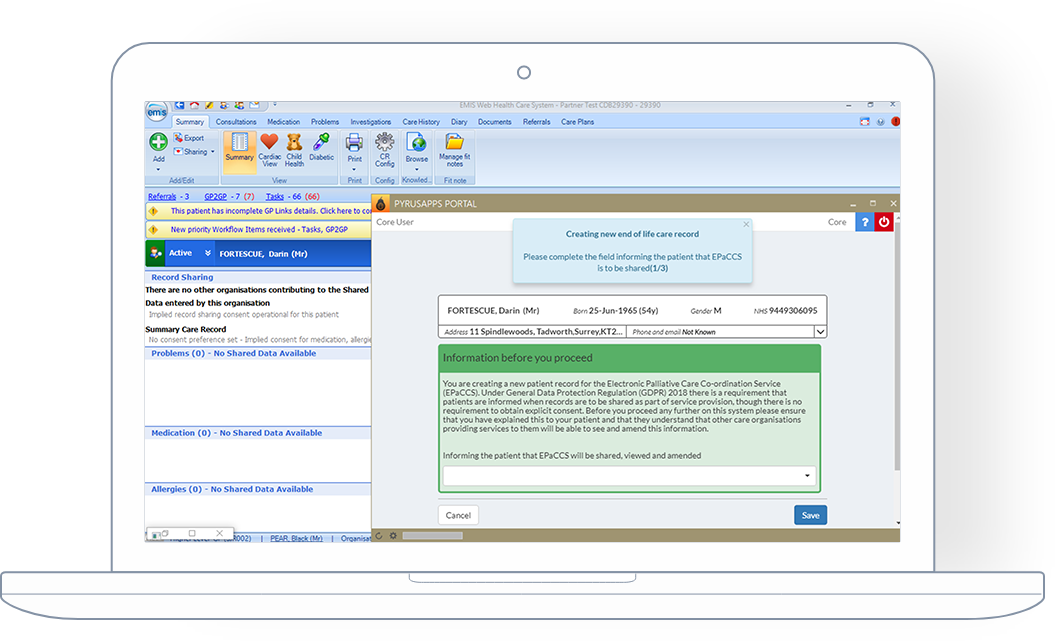 Core Appointments
Core Appointments is a federated and shared services appointment solution that presents a streamlined way to offer appointment slots from multiple providers.
It shares patient information between services to support an appointment and automatically returns outcomes from the consultation to GPs.
Core Appointments is the market leading solution for delivering extended hours GP services and community based clinics where there is a mixed economy of clinical systems.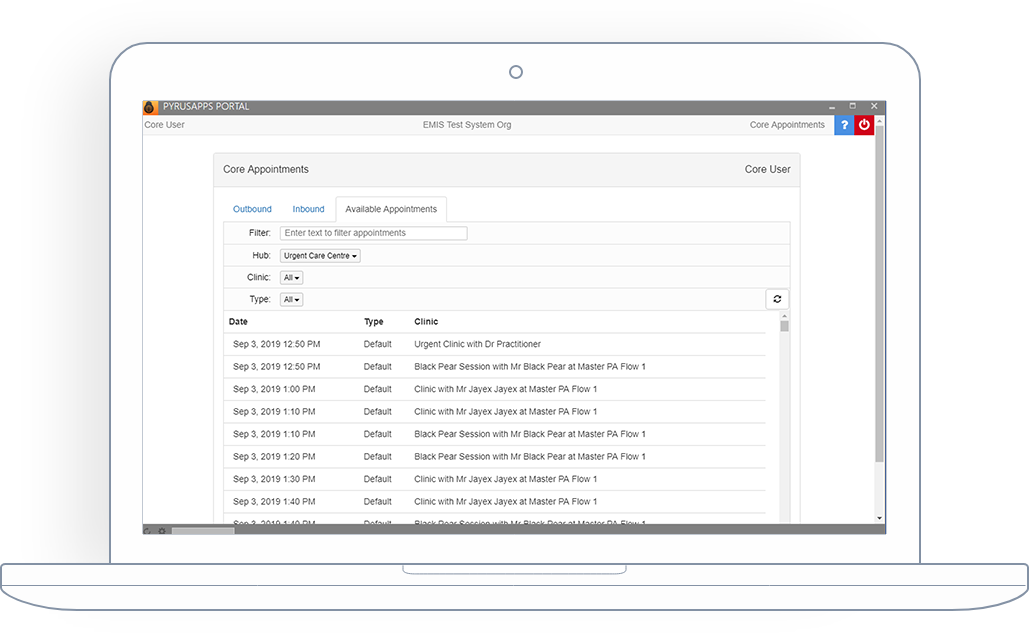 Want to learn more about the technology behind our solutions?