Treat with trust
Make informed decisions with your patients' live medical history in one place. We pull real time data from every health and care setting and present it on our intuitive platform.
You can easily see exactly what you need no matter where it's held – and it's never out of date.
Only the truth
Act decisively knowing every service is in the loop. Patient information is pulled live from the GP record and other connected systems into a single source of truth.
This record of the patient's history can be accessed from anywhere. It means cross-organisational, multidisciplinary teams all work with the same up-to-date information.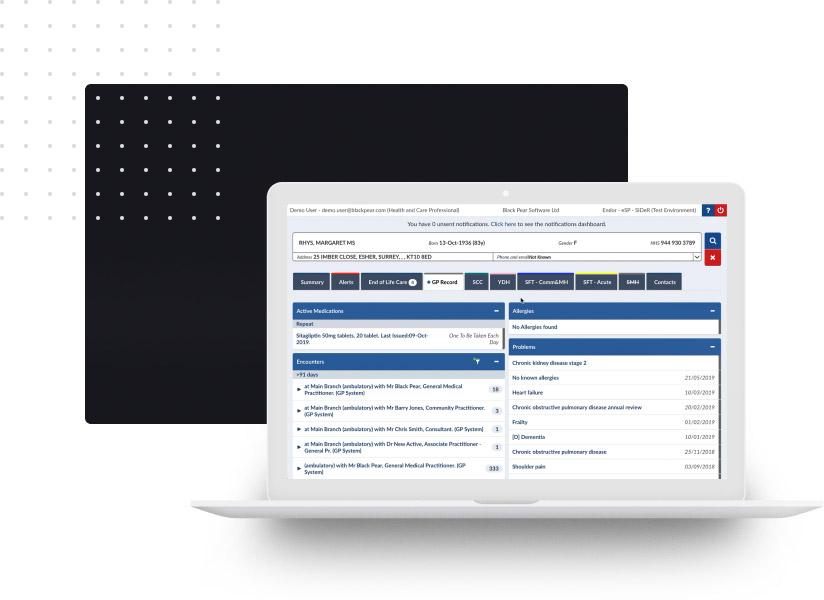 Tailored service
Health and care professionals get a view tailored to their role, so you don't waste time chasing information. We worked with clinicians to ensure each service sees the information they need most first. If you want to dig down further it's easy as our smart workflows let you quickly pull out exactly what you need.
Simple access
Get the data you need in seconds with one simple login. Authenticate from your current clinical system or login directly to a standalone app.
We've made accessing patients' history as simple as possible so you can get it with minimal disruption to your routine.
FAQs
The care record service is a shared record system which gives an overview of a person's health and social care information in one place.
No, this combined information is populated from the source system, for example the general practice or hospital system, and it is read only. Once the page has been closed nothing remains apart from an audit trail.
Currently, if as a patient you are cared for by a hospital, community health team and a GP practice it is difficult for a clinician in, for example, a hospice to know what care has been given by other health care professionals. The care record service enables the right information to be available to the right person at the right time with the minimum of effort. This helps ensure that the clinician treating the patient is well informed.
Yes, access to care record service is available 24 hours a day, 7 days a week. This will help reduce the number of telephone calls to other organisations that are caring for the patient and improve the quality of the consultation for the patient and the clinician
Yes, patients will not need to repeat their history. It will help reduce unnecessary tests and appointments and will help them receive care in a more efficient joined up way
Want to get started?
We don't believe in making you reliant on one supplier. That's why once we get you up and running with one of our products, you can use any solution that harnesses HL7 FHIR®. So you are free to find the best solution possible.