Core Appointments
Streamline multiple NHS services with a single online appointment book. Automatically share patient data and return clinically coded outcomes to those who need to know.
The single online appointment
book for the NHS
Highly configurable
Set up and offer different appointment types across multiple hubs e.g. routine GP appointments, emergency, telephone consultations, home visits, nurse clinics and community outpatient services. Core Appointments provides the flexibility for federations and CCGs to use it the way they want, with the added option of booking from NHS 111 and OOH services.
Seamless integration
The solution is currently implemented in single and mixed economies of EMIS Web, Vision360 and SystmOne practices with EMIS Web sitting at the care hubs. Interoperability between systems uses HL7 FHIR. Integrations with the Adastra and Cleric clinical systems support most NHS 111 services in being able to refer patients into federated and community services.
Decision support
Sends a clinical précis of the patient record which is generated from the patient's GP record to the clinical hub. This supports clinicians at the hub to make informed decisions. It consists of significant past/current problems, active medications, allergies/adverse reactions, immunisations, latest BP, BMI readings and smoking status.
Supporting new ways of working and new models of care
The Five Year Forward View talks about Integrated Health Care and new ways of working. These new ways of working revolve around new federated and community based services often hosted from 'clinical hubs' using primary care clinical systems. Black Pear has a solution for these new shared services by addressing the first principles of ease of access.
Urgent Care centres, extended hours GPs, 'pop-up' clinics, and home visiting services are all great examples. But how do you make it easy for them to search for available local services and to assess quickly whether free appointments are available for patients?
Core Appointments enables shared services to reach their true potential and be the effective centres of delivering new models of care by enabling genuine integrated working and information sharing with GPs, OOH, 111, Community, Acute, A&E, Ambulance that allows these services to:
Optimise hub capacity to deliver more services to more patients more effectively.
Provide the connecting 'spokes' to feed the hub services from all care providers.
Reduce pressure on practices and other services such as A&E. Help GPs focus time and resources on patients that need it most.
Enable a wide range of services to connect to extended hours hubs, specialist community services and for routine primary care.
Drive service sustainability and viability by enabling multiple spoke connections to a wide range of referral points for multiple services.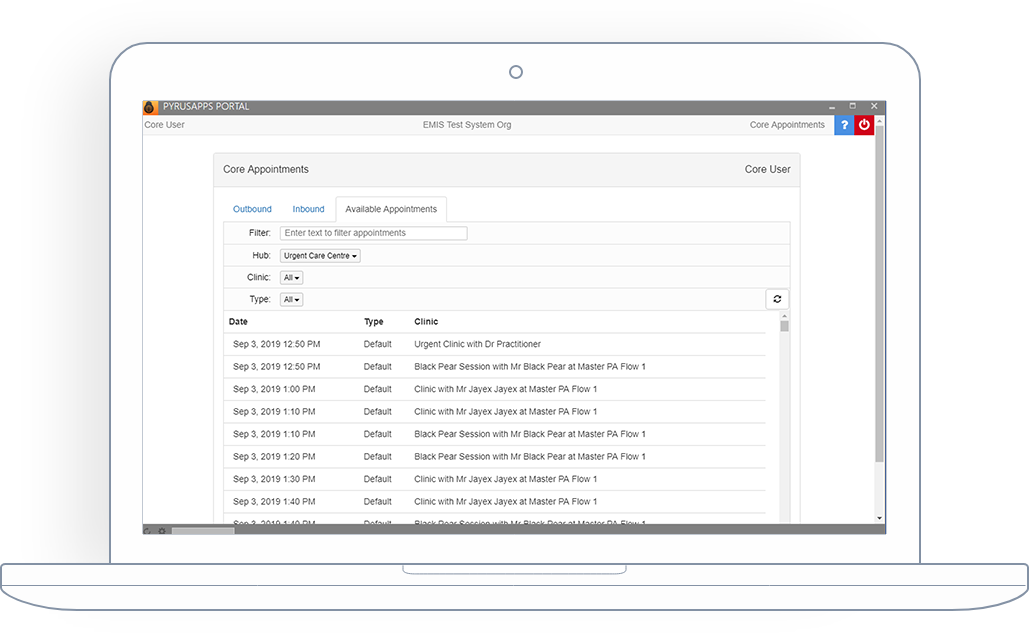 Core Appointments is already facilitating over 5 million appointment requests and bookings every year across the NHS
Find out how we can help deliver the same services in your area